Daily | Embark: 09:30 am  | Disembark: 11:30 am | Marina da Glória

See Rio by boat! Call us and make your reservation: 55 (21) 2225-6064
We value the main tourist and historical spots on the maritime route, which are certainly considered postcards of our wonderful city. The tour is very beautiful because it presents the city from another angle: from the sea to land.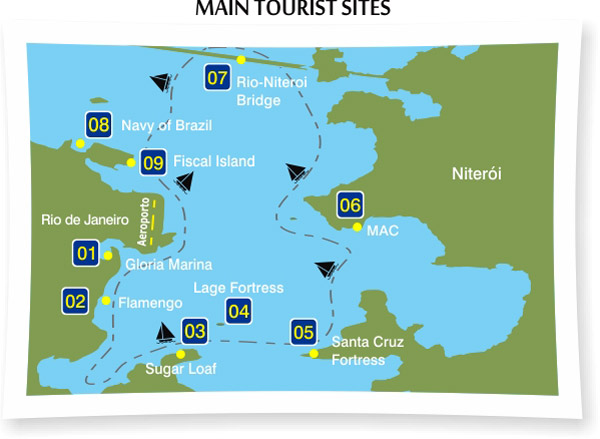 Main Pier of Gloria Marina, Flamengo, Botafogo, Urca, Sugar Loaf, São João Fortress, Lage Fortress, Niterói , santa Cruz Fortress, Adão and Eva beaches, Jurujuba beach, charitas bech, São Francisco beach, Icarai beach, Itapuca and Indian stone, Flechas beach, Boa Viagem beach, Comtemporary Art Museum, Gragoata beach, Gragoata Fortress, Mocangue Island, Rio-Niteroi bridge, Enxadas Island, Cais do Porto, Cobras Island, Fiscal Island, Villegaignon Island, Modern Art Museum, Monument to the dead soldiers of the Second World War, return to the pier.
Tropical fruits will be served aboard.
Maritime route may be altered or canceled depending on meteorological condition.
This post is also available in: Portuguese (Brazil)